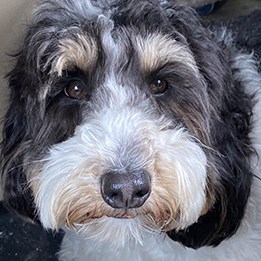 Vader Bellosa-Bryant, Therapy Dog, CGC
Hello, I'm a Mini-Australian Bernedoodle with a Canine Good Citizen (CGC) Certificate. I will be 3 years old in July 2021 and maintain all required immunizations. I live with my loving family that consists of my Dad, Mom, big sister Scarlett and big brother Leo.
Since I was 6 months old, I've attended school and training to become a licensed therapy dog. I attend classes to maintain my training each month. I work with my Mom, Christine Bellosa, in a private practice setting doing both in-person sessions, as well as telehealth sessions. I was scheduled to take my official license exam in May 2020, but then COVID-19 came and my test was postponed. I was thrilled to learn that the test is now rescheduled for the Fall of 2021.
I have experience working with children, adolescents, adults, couples and families. My focus is to provide a comfortable and supportive atmosphere in order to help individuals achieve their therapy goals. Also, I just like to help people feel calm and happy.
Areas of focus I have experience is working with individuals impacted by:
Autism Spectrum Disorders (ASD)
Attention Deficit Disorder with and without Hyperactivity
anxiety disorders
mood disorders
social skills issues
school/behavioral issues
trauma/PTSD
low self-esteem
stress management / family stress
adjustment disorders
substance abuse issues
I love laying down surrounded by individuals and listening to anything they have to say. Sometimes they pet me or brush me which I truly enjoy. There are times when I cannot be next to people and I do my very best to sit quietly and stay "placed" wherever Mom tells me to go.
Every night, I love listening to story time at bedtime. My big sister and big brother and myself work on quieting our minds and bodies so that we get ready for bed. I love naps, family time, playing in the park , camping, fishing and snuggling.