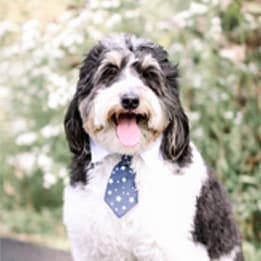 Vader Bellosa-Bryant CGC, CGCA, CGCU
Therapy Dog
Hello, my name is Vader and I'm a Mini-Australian Bernedoodle. I was born on July 23, 2018 in North Carolina. I am a certified crisis, airport and therapy dog and a member of a national team called Go Team. I have 3 title certificates with The American Kennel Club:
Canine Good Citizen (CGC)
AKC Community Canine Advanced (CGCA)
Urban Canine Good Citizen (CGCU)
Since I was 6 months old, I've attended school and training. I attend classes regularly to maintain and practice my skills. I work with my Mom, Christine Bellosa, in a private practice setting doing both in-person sessions, as well as telehealth sessions. I also enjoy doing community, classroom/school visits to meet students and people of all ages and abilities. If you would like to schedule a visit, please complete the contact form.
I have experience in working with individuals impacted by:
Autism Spectrum Disorders (ASD)
Attention Deficit Disorder with and without Hyperactivity
anxiety disorders
developmental disabilities
grief
mood disorders
social skills issues
school/behavioral issues
trauma/PTSD
low self-esteem
stress management / family stress
When I am not working, I live with my loving family that consists of my Dad, Mom, big sister Scarlett and big brother Leo.
My hobbies & interests are:
story time & movie night
watching YouTube
walks & playing at the park
camping & fishing
naps & snuggling